Distorting mirror maze
Unique in the Netherlands! The mobile distorting mirror maze !! Place this fantastic attraction at your event or street festival and ensure that you are satisfied. This attraction is attractive for young to old. Easy to install and requires no electricity or special safety measures. But of course enough space! This year we will start with this unique attraction so we initially opted for a maze of 6 by 6 meters/ 236,22 by 236,22 inches, or 36 m2 of pleasure. This attraction contains 40 !! Smiley mirrors from the Model Amsterdam and 4 from the Model Amsterdam XXL. Of course we will increase this attraction if we are successful!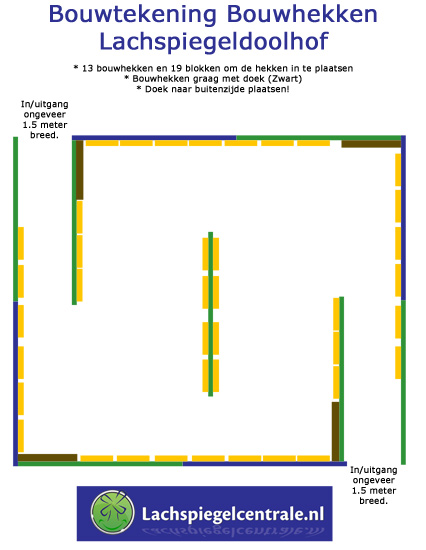 Click on the image to enlarge.
Yellow blocks are model Amsterdam, the brown
ones blocks are model Amsterdam XXL
What do we expect from you as an organization?
A free space of 64 square meters or a square of 8 by 8 meters/ 314,96 by 314,96 inches. You must build a square on it as shown in the drawing above. You therefore need extra care:
* space of 8 x 8 meters/ 314,96 by 314,96 inches
* 13 building fences and 19 blocks to install the fences
* 1 person on the implementation day to help build and dismantle
* possibility to come with (large) trailer to the location
* maze supervisors during your event
The price for this unique attraction is only € 1295.- ex. VAT for a maximum of 2 user days (excl. Dismantling) incl. Travel costs to the Den Bosch region. Then € 0.35 per km.
Click on the picture to enlarge.
We also sell distorting mirror mazes. In consultation with you, we make a design device, incorporate light and sound effects into it if desired, and of course process distorting mirrors of various sizes. You will of course pay an adjusted (lower) price per distorting mirror. Call our office to discuss your maze. +31 (0)226 - 45 41 43